Tom Cruise: the best and worst
With the imminent release of Mission: Impossible - Fallout, and Tom Cruise recently celebrating his 56th Birthday, now seems a perfect time as ever to look back on the highlights of his career. UEL Film Students Shaun Alexander and Michael Andrews give their competing Top 5 Cruise Countdowns…as well as a film they each personally wish he'd never made!
Shaun's list
5. Collateral (2004)
A huge departure from Tom Cruise's usual clean cut image, Collateral sees him as a greying hitman who - with the assistance of a downtrodden cab driver (Jamie Foxx) - travels around L.A. picking off his targets. Playing against his usual type, Cruise is able to show his range here as a deadly assassin with plenty of great dialogue being shared between the two lead actors. Collateral includes some incredible night time cinematography, harkening back to the likes of Taxi Driver in both style and tone. It's worth watching for the nightclub shoot out alone.
4. A Few Good Men (1992)
A Best Picture nominee for director Rob Reiner, A Few Good Men is Cruise at his best playing a military lawyer tasked with defending two young marines accused of murdering a third. Facing off against Hollywood heavyweight Jack Nicholson is never an easy task but here Cruise is able to battle with the best and shows why he was such a huge star during the 90s. The script buzzes with energy; "You can't handle the truth" will go down as one of the best lines in cinema history.
3. Mission: Impossible - Ghost Protocol (2011)
After director Brad Bird's successful stint in animation with hits such as The Incredibles, Mission: Impossible - Ghost Protocol proves that he is just as adept at working with live action. The fourth instalment of the franchise sees Ethan Hunt (Cruise) and his crew on the run as they are framed for bombing the Kremlin. Cruise is often associated with his high octane stunts and nothing so far has been able to beat his scaling of the world's tallest building: the Burj Khalifa in Dubai.
2. Magnolia (1999)
Cruise's most layered performance to date sees him play Frank Mackey, a misogynistic motivational speaker you wouldn't be surprised to see performing at a Trump Rally. He's painted in the most unflattering light possible but this only makes the performance more impressive; behind this masculine bravado, he is just a scared boy who is terrified of losing his father. An incredible portrait on family relationships in times of hardship.
1. Top Gun (1986)
It's hard to look past Tom Cruise's iconic role in Top Gun as his greatest performance. As Maverick, Cruise takes to the sky battling it out with fellow hotshot Iceman (Val Kilmer) as they look to complete their flight training at the academy for the best pilots. Top Gun is an incredible blend of high octane action, romance and comedy. Cruise is able to show here why he became the go-to Hollywood superstar for over three decades; his charisma seeps into every scene and I'd love to have Maverick as my wingman.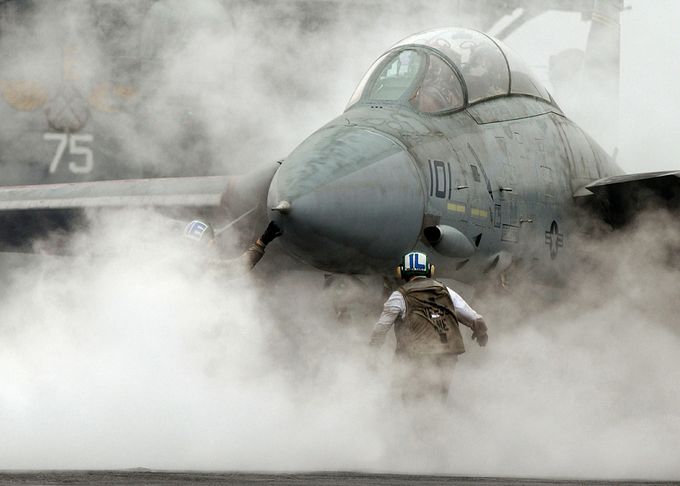 My most-hated Tom Cruise movie: Rock of Ages (2012)
Magnolia is a great breakdown of a charismatic public figure and how their behind-the-scenes life is different from their onstage persona. Rock of Ages is not that. We get a charismatic stage persona with a 'broken man' off stage but given no chance to see that. We are treated instead for two hours to a checklist of rock classics sung by the likes of Alec Baldwin and Russell Brand which proves to be a dud for all involved.
Michael's list
5. Mission: Impossible - Ghost Protocol (2011)
Still my favourite in the franchise - the film that really put the series back on the map. Much is made of the Burj Kalifa sequence and while it is obviously captivating, the film wouldn't be as memorable as it is if it bypassed great characters and dialogue. Thankfully it has these in abundance.

Cruise is hard as nails yet brings a vulnerability to Hunt. A stellar blockbuster with likeable characters, a detestable villain and action that is rarely seen in Hollywood movies.
4. The Last Samurai (2003)
Before you get angry, no, Tom Cruise is not the titular 'Last Samurai,' so don't get angry that Cruise accepted a role that should have gone to an Asian actor. He's Nathan Algrand, a bitter and guilt-ridden alcoholic who forms a complicated and intricate relationship with Ken Watanabe's character Katsumoto.

The film is beautifully shot, the Japanese countryside and epic battle sequences are rarely seen in such splendour and, when coupled with writing and performances that are as strong as the cinematography, you get something truly memorable.

3. Minority Report (2002)
An action movie with a brain and philosophical musings, the big question of Minority Report is: "Do you think it is morally justifiable to arrest someone who you know will commit a crime before they even commit that crime?" It then becomes more complex by delving into whether a criminal would still commit the crime if they knew they would commit it!
To delve further into the plot would be to give away quite a lot, but if you want Mission: Impossible with the moral complexity and philosophical musings of Blade Runner then Minority Report should definitely be a film you check out.
2. Edge of Tomorrow (2014)
Edge of Tomorrow is one half sci-fi action movie and another half Groundhog Day. As it turns out, this combination results in one of the best sci-fi-action films of the decade.

Cruise plays William Cage, a military spokesman and unbridled coward. The role of tough and courageous warrior is instead given to Emily Blunt whose character, Rita Vrataski, is arguably as important as Cage.
Cage is forced to fight an alien threat on the beaches of Normandy and, every time he dies, repeat the same day over and over again. With Bone-crunching action, intimidating aliens, interesting characters and realistic mech-suits, Edge of Tomorrow is well worth your time.
1. Collateral (2004)
Collateral deserves to be here as I feel it is Tom Cruise shedding the weight of being 'Tom Cruise'. Jamie Foxx plays an unsuspecting taxi driver who picks up Cruise's menacing, cold-blooded hitman.
At its heart, the film isn't an action movie but more of a noir, similar to films like Taxi Driver and Drive, where action is present within the narrative but not the dominating aspect of the film. Thoroughly buried in neo-noir influences and containing cinematography that remains unparalleled in its depiction of night time Los Angeles, Collateral is a joyous ride from beginning to end.
My most-hated Tom Cruise movie: The Mummy (2017)
Top Gun is laughable, Cocktail is messily put together while Knight and Day and Rock of Ages are both unbearably mediocre. Yet, no film in Tom Cruise's manifesto is as intellectually insulting, mind-numbingly boring, poorly strung together, tonally incoherent, badly acted and awfully structured as The Mummy…a film so devoid of quality that, while trying to piggyback off of Marvel's success and create a 'Cinematic Universe', it killed its own 'Cinematic Universe' stone dead.
Stick to the original film and the first Brendan Fraser-led movie and do not watch this one…ever.