Charles, Product Design student, explains how to get the dream job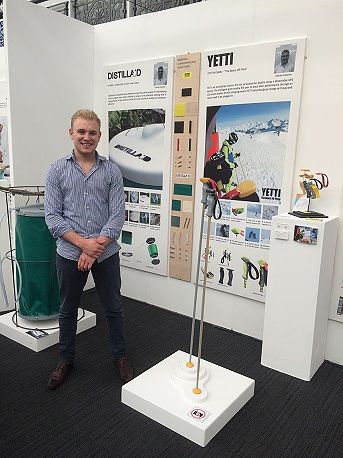 Getting our students into their chosen career is a top priority for UEL. Right from the start, we make sure our students get the advice and opportunities needed to prepare for the world of work: career fairs; employment consultants running useful work-focused courses during the year; professionally accredited degree programmes which include work placements; mentoring schemes; and paid summer internships to name just a few of the things on offer.
Charles Cawdron, a UEL Product Design student who will graduate this October, explains how he just secured his first job in his chosen career:
"I had an absolutely fantastic week at New Designers, which is a national exhibition for final year design students and other emerging designers. It was extremely useful seeing the quality and standard of work that is required as a designer. Myself and fellow UEL product design students were among the best emerging designers in the country and learnt a lot by talking to industry professionals, potential employers, others students and graduates.
I left New Designers with a list of business cards I had taken from potential employers, and began emailing and calling them to follow up on the interest they had payed to my stand during the show (pictured).
Alongside this, I was also actively searching and applying for jobs. Within a week of the show I had a call back from a recruitment agency, and met them that day. I was then interviewed for the job the next day, a Friday, and asked to start on the Monday.
Since then I have been working for a company in Folkestone, Kent, designing office interiors, commercial spaces and all kinds of different projects and I'm thoroughly enjoying it!
The experience I had at New designers was definitely a massive help in seeing how the industry works and how to talk to the people in it."
Charles thinks the formation he received at UEL played a big part in making him ready to turn his education into a career that he enjoys.
"When the course lecturers throw you in at the deep end and expect you to know or learn how to do something yourself, it's exactly how it is in industry. Also, having to go back to your work and keep make changes winds you up at uni, but I've realised why it is like that now.
Although you know that making small changes to your work takes a long time, the employer doesn't, and that's something you need to factor into your time management. Deadlines are just as tight or tighter in industry as well. I'm really pleased that I had some good preparation at uni for it, otherwise I'd have taken a lot longer to adjust to designing professionally in industry."