Farewell and Auf Wiedersehen! UEL's unique Erasmus student is heading to Germany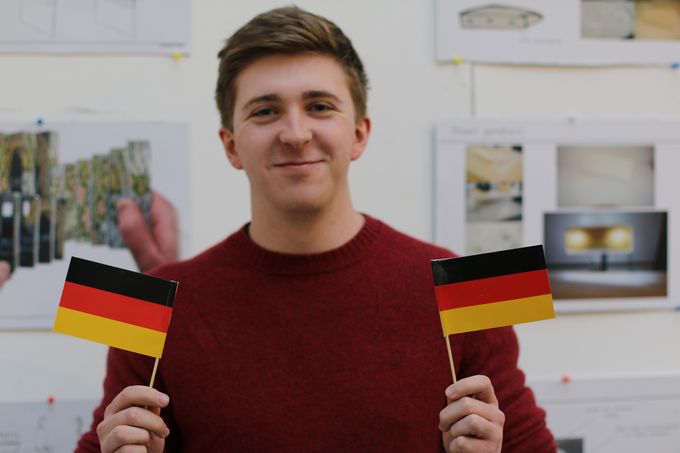 University is a time when students seize opportunities with both hands – something UEL Sam Hughes knows only too well.
Sam, who hails from Reading in Berkshire, is a University of East London (UEL) second year BSc Product Design student. He will be heading to Germany in April to embark on a three-month stint as an Erasmus+ student at Hochschule für Bildende Künste Braunschweig (Braunschweig University of Art).
Erasmus+ (European Region Action Scheme for the Mobility of University Students) is a European Union student exchange programme established in 1987.
It gives students the chance to spend anything from three months to a year living and studying at a university in another country.
"The Erasmus+ programme is the reason I wanted to come to UEL," says Sam. "My family are quite engineer-based, and I want to go into that when I am older, so Germany was the natural option as it is one of the best places for engineering and product design."
Erasmus+ has proven incredibly popular, with 4,600 higher education institutions in 33 European countries taking part annually.
By 2020, it is expected that 20 percent of the European student population will have benefited from the programme.
This academic year UEL welcomed 22 Erasmus+ students from countries across Europe, offering them the chance to benefit from UEL's research strengths, world-class facilities and opportunities for civic engagement.
This is the first time Sam will spend ab extended period of time away from home but is excited at the prospect.
"I'm looking forward to seeing how new ideas and teaching methods will enrich and change my understanding of product design and drawing," he said.
Sam will live on campus, giving him to chance to make friends with fellow students, immerse himself in German culture and brush up on his German which he has been teaching himself for several months.
Erasmus+ is open to UEL students and staff. If you would like to know more, please contact Study Abroad coordinator Tom Collier at T.Collier@uel.ac.uk (020 8223 2337).