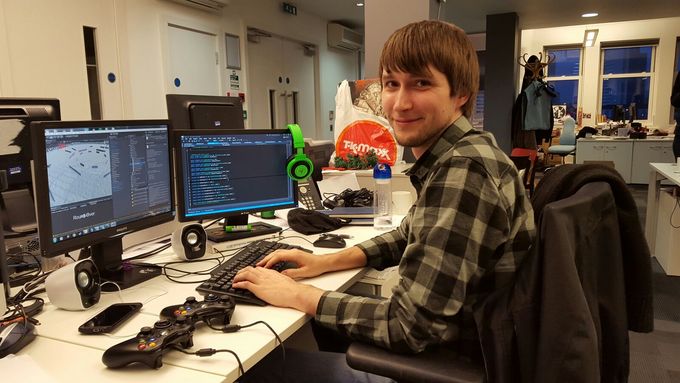 Howard Ife only graduated from the University of East London a little over a year ago, but he is already living his dream in the games industry.
Howard, 25, studied Computer Game Development and, despite describing himself as 'not the smartest of people', achieved First Class Honours.
Three weeks after completing his degree he began working as a coder and games developer for Endemol UK, one of the UK's largest independent production companies. Now he is preparing to have his very own game released on Xbox and Playstation 4.
Howard believes he would not have been offered a job at Endemol UK if he had not studied what he described as the 'perfect' course at UEL.
"A lot of my life I wanted to be a games designer or a developer but I didn't know how to go about that, so when I saw the UEL course I was like, 'That's fantastic. That is exactly what I want to do'.
"Going to UEL taught me how to design games, conceptualize games and code them and prototype them and understand artists," he said. "So many courses are just art-based or coding-based. They don't realise there is this in-between area of games design where you think about what makes your mechanics fun."
After completing a six-month internship at Endemol UK he was offered a full-time job and given the chance to create a game completely funded by the company. He jumped at the opportunity.
Along with two of his colleagues, Howard spent six months creating Black and White Bushido, an arena fighting game between light and dark samurai. The game is already achieving success.
"When we went to Euro Gamer Expo in Birmingham we won fourth-best independent game and we beat stuff like Worms Armageddon and a few large independent titles that we all love," Howard said.
He struggled to believe the success the game was having, describing people's reaction to it as 'insane'.
"For quite a while when we were there we were like, 'Are they really having fun? Are they really enjoying it? Are they acting like this to every game?'
"The part we loved was when you would see people leave and they would come back half an hour later, saying, 'Oh, we just need to have one more match. We need to decide who's the best'. Those are the things I like about games, the social side of it and the interaction with other people."
Howard is currently working on a prototype for his second game and is enjoying every minute of what he does. "I turn up to work and do what I love doing: designing video games, making video games and having an idea and saying, 'Let's do this!'" he said.
Black and White Bushido is already available on PC and is due for release on PS4 and Xbox in March 2016. Visit this link for details: http://store.steampowered.com/app/404050/