Maha looks back on how she helped the Yemeni revolution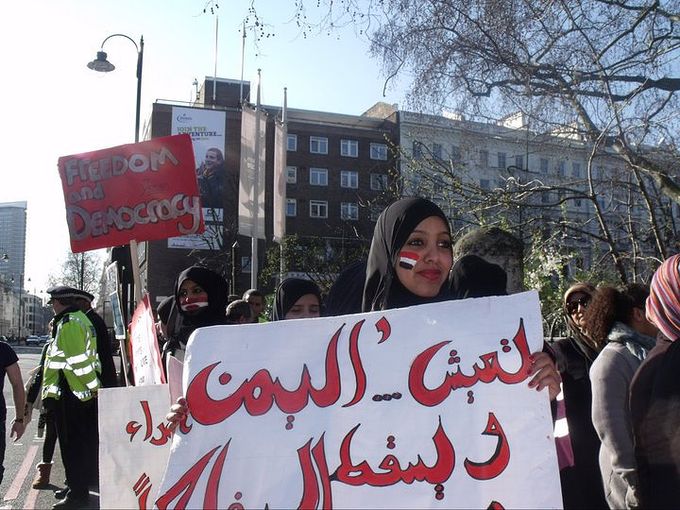 Members of the UK's Yemeni community are marking five years since the start of the Yemen revolution of 2011 – and University of East London student Maha Salim, 25, has special reason to reflect on the past.
Maha, who is studying International Development with NGO Management and lives in Leyton, East London, was one of the leading figures of the UK movement which galvanised Yemenis across the country to show solidarity with the Yemeni people.
Back home in Yemen, many people were losing their lives – including Maha's 16-year- old cousin and several of her close friends.
Maha's story is fascinating. She and her family moved from Yemen to Saudi Arabia, only to find themselves fleeing Saudi Arabia when she was just 12. Years of racial discrimination and harassment finally drove her family to England for a better life and quality of education.
"I wasn't interested in politics growing up," she says. "All I'd see on the news was wars and conflict, which I had no interest in," she says.
In 2010, she felt the growing need to connect with fellow Yemenis. "It was really thanks to some luck and Facebook that a grassroots social and fund-raising group started," she recalls.
"I just met some London-based Yemeni people and we started a group called the 'Yemeni Youth Association' for 16-30 year olds.
The group focused on cultural, social, and fundraising efforts for various causes in Yemen, as well as giving Yemenis living in the UK a sense of connection with their homeland and culture.
One evening, after the group had finished a meeting on Edgware Road, London, they hear the news that Egypt's president Hosni Mubarak, had been deposed.
"We were filled with happiness, and felt some hope that something similar could happen in other Arab countries."
Maha explained that the Yemeni revolution began peacefully, with public demonstrations calling for better education and improved economy and a reduction in unemployment. Many of the demonstrators were teenagers and young adults.
A new group was formed in the UK, 'Yemeni Youth Revolution,' to campaign and protest in union with the nascent 2011 revolution in Yemen. Letter-writing to politicians and protests outside the Yemeni embassy in London and 10 Downing Street drew large crowds of people.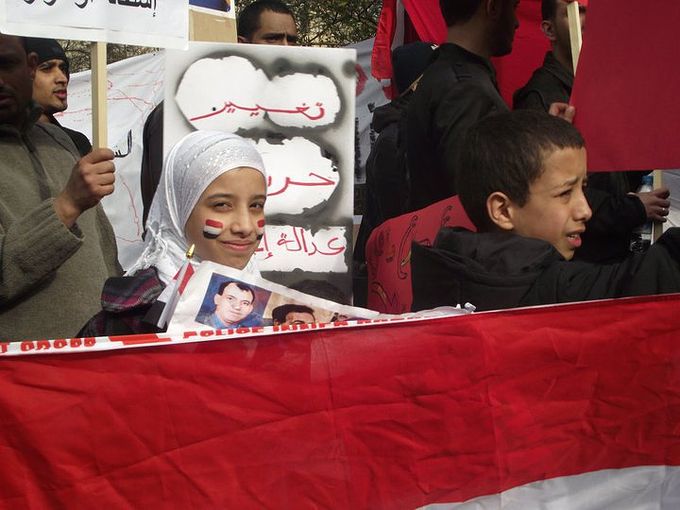 Facebook became an indispensable tool to share news and weekly videos, have discussions, and alert supporters to the daily updates coming from personal contacts in Yemen.
"I was in charge of social media and took part in all the demos, even twice a week," Maha says. "It was a tough time. We had no money. It seemed those with power didn't want to listen. But all the while fellow youth – our friends – were being killed."
In Yemen, demonstrations grew in size, drawing 20-30,000 people together at a time. They were met with tear gas and live ammunition attacks from police, military, and tribal supporters of the then president Ali Abdullah Saleh.
Maha recounts a peaceful vigil outside the Yemeni Embassy as one of her most memorable moments.
"There was a big crowd of us, and then all of a sudden we all went silent and then began singing the Yemen national anthem. It was a proud moment, and I thought about my family and friends in Yemen, threatened daily with death for doing what we were able to do freely in London."
Maha doesn't feel the revolution has really ended, and she says things are not better, with education and opportunities for employment and quality of life far behind that of neighbouring countries.
Yemen is now a hotbed for Islamist terrorists such as Al-Qaeda in the Arabian Peninsula. At the beginning of March, the massacre of 16 innocent residents of a retirement home, including four nuns, in the village of Aden, made international headlines.
"It feels like that, on a bigger scale, Yemen is being used as a 'playground' for war between Iran-backed fighters versus Saudi bombing campaigns," says Maha.
"I'd like to go to Yemen, and raise my future children with British and Yemeni culture. Right now, it feels like I would lose my life if I went back to the land of my family, but I hope to, one day."
Notes: To arrange an interview or further comment please email D.Blackman@uel.ac.uk or call 07894 800 512. I can also help put you in touch with other Yemenis in the UK who took part in the movement. Photos: Rally 1 and 2 taken outside the Yemen embassy 19/3/2011. Maha Holding the flag photo taken outside 10 Downing Street September 2011.