Nominate yourself in the UELSU Spring 2017 elections!
Are you interested in earning £20,000 pa to represent the views of students in your school and across the university? Then nominate yourself to be an executive officer for the Student's Union.
Nominations period is open for the upcoming Spring 2017 elections and the deadline is Friday 20th January, 12pm.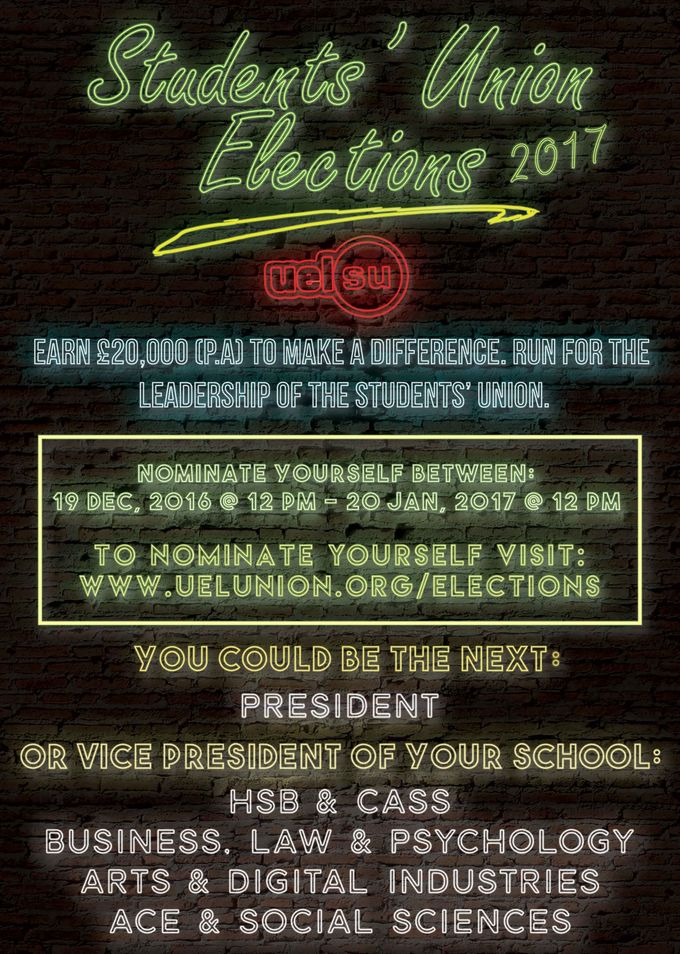 We are looking for an SU President as well as 4 Vice Presidents to represent each of the following schools:
Arts & Digital Industries
Psychology and Business & Law
Education and Health, Sport & Bioscience
Social Sciences and Architecture, Computing & Engineering
Please note you can only run for either the President role or for the Vice President role that represents your current school of study.The executive officer positions are full-time paid jobs so if you are not in your final year of study, you will need to take a sabbatical leave of one academic year to fill the role. You can only run for one position (either executive or part-time).
We are also looking for voluntary part-time officer positions to represent our liberations and sections, you can find the full list on our elections page.
Please note that these positions are voluntary and you will need to be a student at UEL next academic year to be able to run for these positions. You may need to self-define as the characteristic you would like to run for. For example, you must self-define as a woman to run for the women's officer position.
How to apply:
1) Nominate yourself at www.uelunion.org/elections by Friday 20th January 2017, 12 pm.
2) Submit a 300 word manifesto with a photo of yourself.
3) Attend one of the candidates briefings:
Tuesday 24th January 12 - 2pm, Stratford CC.G.04
Tuesday 24th January 5 - 7pm, Stratford CC.G.05
Thursday 26th January 5 - 7pm, Docklands EB.G.06
Friday 27th January 12 - 2pm, Docklands EB.G.06
4) Voting period:
Start: Wednesday 15th February 12pm 
End: Thursday 23rd February 12pm
5) Results
Thursday 23rd February from 5pm in the SU Lounge, Docklands campus
If you have not used the UELSU website before, you will need to register a new account. If you have issues, please email s.mujunga@uel.ac.uk with the position you would like to run for and your university ID number.
If you are unsure or still deciding whether to run in the elections, then come to one of the elections drop in sessions detailing the different aspects of the elections period.
You can receive help and guidance on how to fill out nomination forms, write an impressive manifesto and the best ways to campaign during the voting week.
Drop in sessions:
Monday 16th January 4 - 6pm, Docklands EB.G.08
Wednesday 18th January 11 - 1pm, Stratford RB.G.15
Wednesday 18th January 2 - 4pm, USS 1.09
Wednesday 18th January 5 - 7pm, Docklands EB.G.08
Thursday 19th January 12 - 2pm, Stratford RB.G.15
For any further information and to nominate yourself, please check the website or contact the Democracy Co-ordinator Sam Mujunga at su.elections@uel.ac.uk or s.mujunga@uel.ac.uk