UEL graduate 'overwhelmed' by £20,000 prize after winning E-factor 2016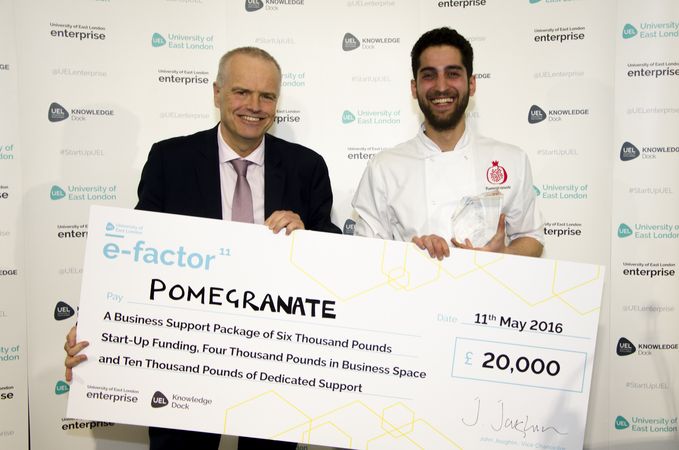 UEL alumnus Mahyar Rahmantalab has secured a £20,000 investment package for his fledgling platform connecting local producers with influential chefs, Pomegranate, after triumphing at the University's annual E-Factor business ideas contest. The judges, industry experts collaborating with UEL Enterprise, definitely saw a clear business opportunity in Mahyar's pitch and will be looking forward to see more British local high-quality organic and biodynamic fruits and vegetables reaching top restaurants.
Mahyar described his victory as "unbelievable" and "overwhelming".
The £20,000 start-up package prize includes funding, business support and a tenancy at the University's Knowledge Dock Business and Innovation Centre, based at its Docklands campus, where Mahyar will be working closely with the UEL Enterprise team and surrounded by budding entrepreneurs.
Timothy Isle, a member of the Enterprise Team at Knowledge Dock, said, "Receiving money is always important for a business but the support they get through our business idea incubation process is of much more value than just winning a cash prize,"
"We've given a lot of extra support to the participants in this year's process, including taking them through a series of workshops, a boot camp, a pitching workshop and a month of individualized mentoring."
The annual competition is open to UEL students and graduates. In a Dragons' Den-style final showdown, the budding entrepreneurs each presented their ideas to a judging panel of industry experts in front of a packed audience.
Mahyar said the biggest challenge had been trying to juggle the development of his business idea with a hectic working week but the effort had been more than worth it in the end.
"The best thing about E-Factor was that it allowed me to stress-test my idea in this incubator," said Mahyar. "Now I'm going to go ahead and make my business happen."
Julian Dominque took the E-Factor runner-up prize with his business Fit-2-Work, which delivers a range of workplace wellness solutions. Julian's prize was a £6,000 start-up package.
The third prize of £5,000 worth of investment went to The Sick 6, run by Idans Zalmansons and Christopher Heath. This is an online music hub that helps independent artists gain global exposure to both new listeners and record labels.
Two other business ideas also walked away with £4,500 start-up packages. These were Bespoke Sports Services, a sports management consultancy run by William Ashby and Dougie Bennett, and MyGigSolutions.com, a website for event organisers to book musicians and musical stage equipment, which is the brainchild of Sofiri Stewart.
For more information please contact UEL Enterprise Marketing Executive, Thomas Shorey, on +44 (0)20 8223 7384 or t.shorey@uel.ac.uk.