UELSU Autumn Elections 2016
We're looking for students who want to take on the challenge of sitting on our student council.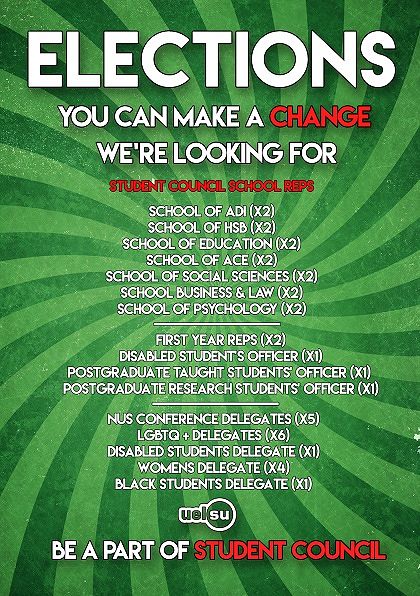 It's very easy to apply, just follow the 3 simple steps below:
1. Submit a completed nomination form, manifesto and photo online at www.uelunion.org/elections by 12 pm on Friday, 21st October. 
A manifesto of 300 words - this is a statement you are making to students telling them why they should vote for you. It will be published exactly as it is received, so make sure all your spelling is correct. If it exceeds 300 words, only the first 300 words will be published.
A Passport photo of yourself in jpeg format
2. Attend one of the two compulsory briefing sessions where you will be given a breakdown of the rules and other vital information regarding the elections.
Monday 24th October 5 - 7 pm (Stratford, CC.G.05)
Wednesday 26th October 4 - 6 pm (Docklands, EB.G.08)
Attendance is compulsory, failure to attend will result in disqualification. Please note you only need to attend one of the briefings.
3. Campaign and get other students to vote for you!
Voting will open at 12 pm on the 31st of October and remain open until Thursday 3rd November at 12 pm. Results will then be announced from 5 pm in the Docklands SU Lounge on Thursday 3rd November.
If you are undecided about running or want some further practical skills, there is an election workshop taking place before the nomination deadline on Wednesday 19th October 5 - 7 pm at Stratford, CC.G.05
If you would like to see what student council is like, then feel free to attend the first meeting of the year on Thursday 20th October 5 - 7 pm at Stratford, CC.G.06
For more information, please do visit the elections website and check out the candidates pack or email Sam Mujunga at su.elections@uel.ac.uk