UELSU supporting students & building rapport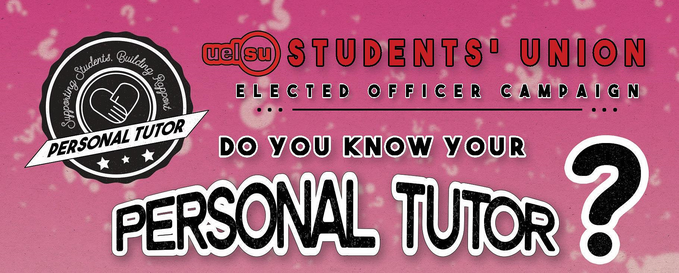 Who is a personal tutor?
Personal tutors are usually academic staff from your school allocated to you at the start of your programme. Make sure you know the name and contact details of your personal tutor.
What do personal tutors do?
They are your first formal point of contact for general academic guidance and support. They listen to your issues or concerns sensitively and respectfully; provide advice and guidance, and are able to signpost / direct you to other sources of support within the University. Your personal tutor is there to guide you so that you have the best possible chance of succeding in your studies. They can aslo help provide written references for employment and other purposes.
Why are personal tutors important?
Having an academic member of staff over see your general academic progress has many benefits. These include supporting you to
overcome the challenges you face
take advantage of the opportunities at UEL
become a confident learner in your academic subject area
manage the transition between levels of study
advisse you on relevant academic, pastoral and career-related issues
encourage you to play an active part in your academic community whilst developing a sense of belonging to UEL, your school and your programme cohort.
It helps you reflect on your academic progress as well as signposting you to the right sources of support available at UEL.
When do I meet my personal tutor?
There are at least two meetings per year for students, and the first meeting is usually a group meeting with other students. This serves as an overall welcome and introduction. The remaining meetings are personal at a scheduled time, date and location within the University. However, there could be subsequent meetings with your personal tutor if the need arise for one.
How do I contact my personal tutor?
Follow these steps to find out who your personal tutor is.
Login to UEL Direct
Click on 'My Record'
Click on 'My Programme'
Click on 'Personal Tutor'
Prepare for your meeting by creating a list of items that you'd like to discuss.
Take charge, take action - after your meeting, make sure you follow up on the action points agreed during your meeting and make full use of the additional support services you are signposted to.