Martin meets Declan McCarthy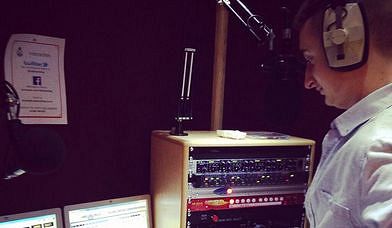 Declan McCarthy is only halfway through a Sports Journalism degree at the University of East London, but he is already racking up vital industry experience.
During the 18 months he has spent at UEL he has reported on two Cup Finals from Wembley Stadium, started his own Saturday Sports Show on Radio Woking and is now being mentored by a top BT Sport executive.
As an aspiring sports journalist it comes as no surprise that one of the main attractions to UEL was the location, being in the heart of London and more specifically the host borough of the 2012 Olympics. Declan explained: "This is a really good place to be if you want to get to these exclusive places and get into press boxes at high-level clubs."
He described reporting on both the FA Trophy and FA Vase finals from the press box at Wembley Stadium as a turning point. He said: "Seeing other journalists at the top end with the BBC and Sky and working only a couple of tables away from them, seeing them in action and getting that Saturday feeling, the Saturday buzz, it was just a fantastic occasion."
Declan has also been given the opportunity to take part in a mentorship scheme which is available to all UEL students with the purpose of partnering them with experts in their respective fields.
The ultimate aim for the 21-year-old is to work for a broadcast company covering football, the sport he loves. He was given the chance to do exactly that when he was partnered with one of BT Sport's executive producers.
Declan has now worked across numerous departments at BT Sport and been deployed around various football grounds. He has even done some work on the National League Highlights Show, an opportunity he jumped at.
"If you were to say I would one day be working for BT Sport I would have bitten your hand off," he said.
"To work alongside Ian Wright and Michael Owen, it's a bit bizarre. But then I take it on the chin. It's something that I want to do so badly that I don't let anything stun me. It is just part of work now."
Declan does all of this while managing his presenting duties on Radio Woking's Saturday Sports Show, something he has been doing for over a year.
He stresses the importance of doing work outside the classroom.
"The big thing for me is not just studying but getting out there and getting experience in the industry," he said. "Even if it's just helping out at your local radio station for an hour a week, you're still involved. Local papers are always looking for a fresh perspective and if you can be that person it can take you to so many other places.
"That's why this university is so great. You're in London and there are so many different outlets and opportunities.
"I never really knew what I wanted to do but I knew I wanted to work in football, whether it be radio, television or print journalism. Then I came to university and the whole atmosphere of learning and getting these opportunities to go to Wembley and working for BT and now where I am today…I probably wouldn't have done any of that if I hadn't come to university so in the long run I have a lot to thank UEL for."