Charlotte's Fashion Blog - 30 April
Hi all! I'm Charlotte, one of the new fashion bloggers for Your Universe.
We're gonna start off with what's up and coming on WGSN. For those of you that don't know what WGSN is – how do you survive without it?! – it is a trend forecasting website that allows designers, buyers and anyone in between to see what is going to be in trend for next year! Cool, right? Formally known as Worth Global Style Network, it has around 74,000 active users.
So enough of the intro, let's get down to what's gonna be in for spring/summer 2019.
Women's wear for spring/summer 2019, colour edition
Over the spring and summer months you will be seeing a lot of soft blocking. This moves away from the harsh colour blocks of autumn/winter 2018. Spring/summer will give us soft, refreshing pastels, mixed in with some vivid brights. This means that neutral base tones are very important so the look is not overpowered. Designers, keep an eye out for materials that have this soft look to them; they'll come in handy if you want to follow this trend. To go with this, jewelled purples are going to be in, along with sherbet yellow – this combo will be very refreshing to see!
Surprisingly, you'll also find rust and earth tones this season (they only contradict a little bit). WGSN suggests that contrasting materials is key.
Nudes are going to be in, which will create an interesting look when worn with either the rust or the soft blocking.
Spotted on campus!
In this weekly section I go around campus and find some of the most interesting students and take their picture for inclusion here. This isn't to criticise, so don't worry if I've approached you. It's to show off your unique and wonderful ideas!
This week, we spotted Jack in the halls of residence. Jack is seen here wearing a peach tropical shirt and wide leg trousers with an elastic waist. I love how he has styled his outfit; the glasses really add to the cool theme. Plus, his hair is amazing! This outfit is definitely suited to the hot weather we've been having recently; fingers crossed it comes again this year.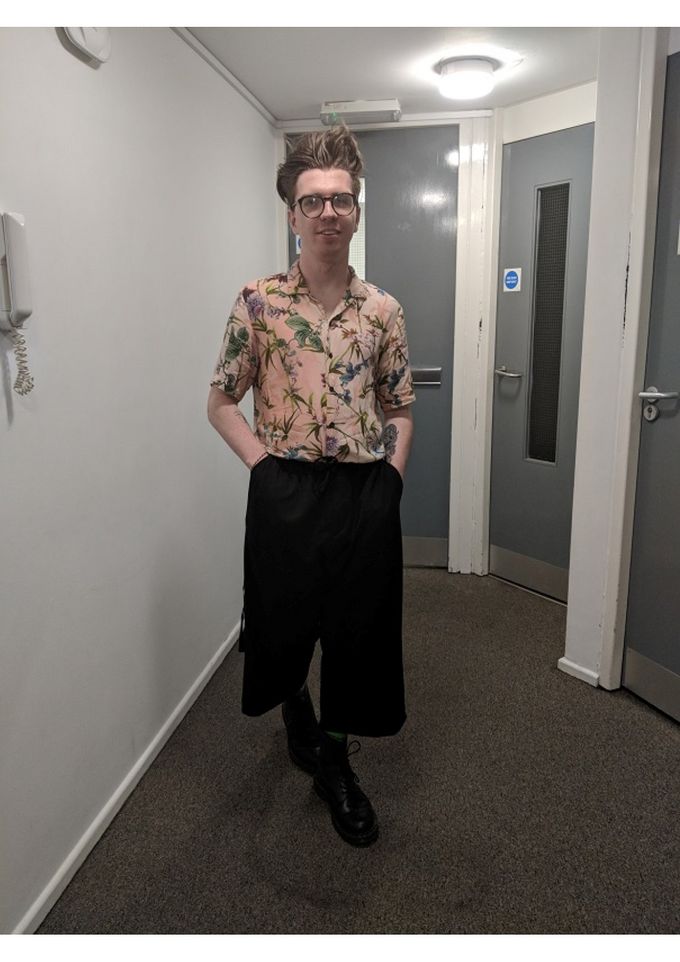 Academic
Now time for the academic part. Here I'll be keeping you updated about events that are happening soon that you can visit, or maybe even take part in.
The first event that is happening is in Hackney Studios on Tuesday 1 May at 6:30pm. This is where work by final year fashion and textile students will be displayed; there will be a catwalk. The work shown will be from all three fashion programmes, so this might be especially interesting to go to if you want to have a look at what fashion students may do in upcoming years.
If you are interested in going, the nearest tube station is Clapton Overground.
And last but not least, a bit of celebrity relief:
Did it work?
In this final regular piece I discuss one celebrity and what they were seen wearing; I give it a thumbs up or down and explain my reasoning. Of course, this is all my own opinion and what I say is NOT gospel by a long shot.
This week I've decided to look at what Gigi Hadid wore to her 23rd birthday. She was seen wearing a golden minidress, with what looks like tassels at the front. OK, so she got me with the gold dress, which does look very nice. But what are those tassels doing there? They look so out of place to me! And don't get me started on what looks like washers from someone's tool kit! I'm afraid this is going to be a thumbs down from me :( But I must say that I do love how she is wearing it and her confidence to do so!