Joseph's Fashion Blog - 25 June
This month I had the pleasure of attending my first ever 'Graduate Fashion Week' and my, my, what a spectacular experience it was! I was overjoyed to see the talent which splashed across not only the runways, but also the exhibitions. Here are my Top 10 highlights from the week (in no particular order):
Sarah Seb - University of East London
Firstly, as a student of the University of East London, it would only be right that I supported the work that my fellow colleagues produced. One designer that stood out to me right from the get-go was Sarah Seb. Her collection, utilising second-hand clothing, deconstructed and up-cycled, really resonated with the masses, gaining her a mention in a sustainable fashion article written by Scarlett Conlon for 'The Guardian'. Her collection explores sustainability through taking vintage clothes and modernising them, proving that clothes do not have to be thrown away and wasted. As we all know, the fashion industry is responsible for some of the most catastrophic cases of fast fashion. When we throw clothes away, they do not simply decompose – rather, they can contribute to pollution. Perhaps Seb's work will inspire more millennials who tap into the 'buy and wear once' habit to see that there are other alternatives to just disposing of old clothes.
Jack Capstick - Bath Spa University
Entitled 'House of Sin', Jack Capstick's menswear collection was a sight for sore eyes. The juxtaposition of latex beside 70's floral patterns created a dandy and almost fetishistic outlook on the collection. The tailoring of the formalwear played proportionally with the slickness of the latex and sheer materials. Thoroughly enjoyed this collection!
Georgina Carman - Norwich University
Georgina Carman's rather refined graduate collection aesthetic really attracted me. Unlike the majority of other designers who showcased their work throughout the week, Carman used a simple but equally impactful colour palette consisting solely of red, black and subdued khaki green. She played with very slender, almost androgynous silhouettes, allowing her the room to inject her character into the shapes and proportions. My favourite look was the khaki jumpsuit with the ruched floral adornment.
Hannah Gibbins- University of Brighton
Sustainability was certainly on everyone's minds at this year's Graduate Fashion Week. One designer who embraced the concept with open arms was Hannah Gibbins. She produced an award-winning menswear collection which merged workwear with casual wear. The final result showed comfort and durability with a ragged and rustic edge. Gibbons said that one of her key inspirations for the collection was her research of 1980s casual wear found in Italian menswear magazines. She was interested in playing with the development of a new men's casual style, thereby looking at oversized silhouettes, drawstring details as well as quite a rich colour palette consisting of mustard and coppery shades contrasting with grey.
Josephine Bloom - University of East London
Entitled 'How Cheap Can You Get?', Josephine Bloom played with the most raucous and outrageous ideals of recent explorations of social values and expectations of how to challenge them. She served up a cascade of looks which played on physical stereotypes of aging - saggy, wrinkled shapes combined with a twinge of modernity. Loud, vibrant attention-grabbing colours of red, purple and zingy metallic blue layered onto hand-painted silk and latex proved to be a feast for all the senses.
Aurelie Fontan - Edinburgh College of Art
Praised for her sci-fi influenced aesthetic, Aurelie Fontan was undoubtedly the star of Graduate Fashion Week 2018. Fontan scooped up 3 awards, all on the basis of her imaginative use of sustainable and ethical textiles. Utilising recycled materials, Fontan re-worked and up-cycled her raw materials, delivering an intricate yet playful final collection.
Jamie Windust - University of Creative Arts Epsom
Editor-in-chief of one of this year's most hotly anticipated fashion publications, Fruitcake Magazine, is my friend Jamie Windust. Fruitcake celebrates the LGBTQIA+ community in its entirety. Focussing on LGBTQIA+ excellence, the magazine sets out to feature some of the work of these creatives in a spread of carefully curated art, poetry and photography. Windust won the Asos Emerging Talent Award in Communications and much deservedly so.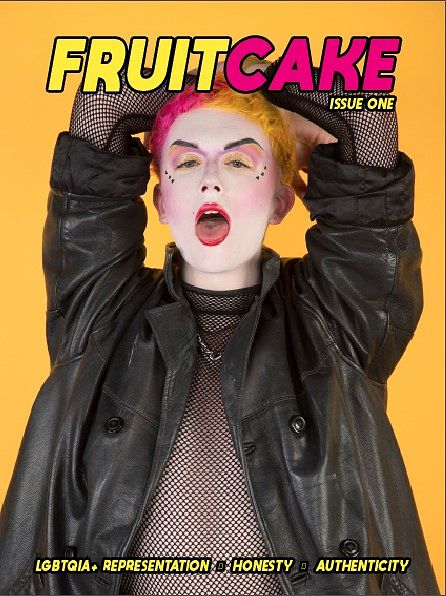 Jacaranda Brain - Nottingham Trent University
Another one of my favourite collections was created by Jacaranda Brain. Brain's collection was entirely fashioned out of knitwear. When asked why she liked working with the material, she responded saying, "for me the tradition and the actual practice of knitwear is fascinating and I love the history behind it!" That being said it was evident that Brain kept the knitwear patterns very traditional as she twisted and deconstructed the fabric, resulting in a modernised and edgy take on knit.
Fraser Miller - De Montfort University
Another designer who utilised knit throughout their collection was Fraser Miller. Inspired by old family photographs, Miller based his collection on the interior design decor of his family house throughout the 70s, 80s and 90s. Following in the footsteps of his family, Miller also took into consideration his family heritage when curating his collection. He took his Scottish roots of kilts and cable knit jumpers and merged it with his Scandinavian minimalist side of a platform brogue and whimsical trousers.
Billy Tempest-Radford - University of Brighton
A designer who brought us colour was Billy Tempest-Radford who delivered a jewel-toned, sickly sweet 70s explosion. Silhouettes were blown out of proportion, bell sleeves and flares stole the show as well as psychedelic prints end embellished mesh details which also contributed to the illusive atmosphere when viewing the clothes.
All in all, I was very humbled to have attended Graduate Fashion Week this year. I was astonished by all the talent showcased here and I am thoroughly looking forward to seeing where these brilliant individuals will be in the years to come.
Magazine cover courtesy of fruitcakemagazine.com
Joseph D'Rozario