Overnight chocolate chia pudding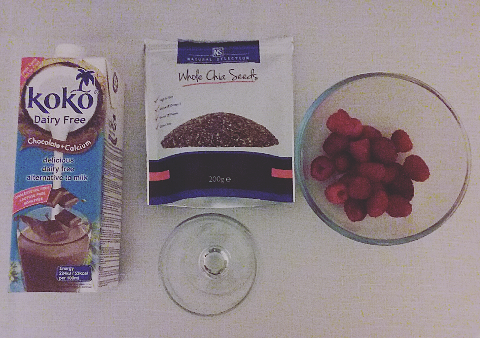 Chia seeds have been the celebrity of health food for a while now and they deserve the limelight. Loaded with nutrients, iron and omega 3, chia seeds are an easy route to getting valuable benefits.
According to the BBC's Good Food website, coconut milk has several health advantages too. It includes iron, calcium and magnesium and to top it all, coconut milk is jam-packed with minerals that promote a healthy immune system, leaving you radiant.
This simple, three-ingredient "pudding" can be relished as a snack, or enjoyed for breakfast. It takes approximately 3 minutes to prepare. There are several adaptations to this pudding that can be found online too, so be sure to give them a try! This recipe is quick, cheap and suitable for vegans too.
The Ingredients:
Chia seeds (3-5 tsp) 100g at £2.75 from Holland & Barrett or 200g at £1.79 from Home Bargains (Beckton)
A handful of raspberries or chopped strawberries (or whichever fruit your heart desires)
Koko dairy free chocolate coconut milk (250ml) 1L at £1.95 from Holland & Barrett
Equipment needed:
A glass (300ml approx.) or small bowl of your choice
A teaspoon
A small square of foil, enough to cover the top of the glass/bowl
The Steps:
Spoon three-five teaspoons of chia seeds into your serving dish
Pour approximately 250ml of dairy free chocolate coconut milk into your serving dish
Stir the mix so that the chia seeds are evenly distributed
Cover the top with foil and chill in the fridge overnight.
In the morning, top the chilled pudding with raspberries (they add a nice tang to a chocolatey pudding) or whichever fruits you fancy. Forest fruits are particularly special and complement beautifully.
Be adventurous and try this delightful recipe out! Feel free to email me with any photos or even your own adaptations of this pudding at u1420899@uel.ac.uk