Worth Global Style Network
This week we're looking at demin for autumn/winter 2019/20. Next year you will be seeing a lot of deconstructed denim, detached waist bands and seam manipulation. If you want your products to sell you may have to resort to using humour; reports say that the use of humour to sell products - especially the use of irony in clothes - will continue for a while, so get Instagram ready. We've not seen the last of ugly fashion; weirder and weirder things are what we're going to be seeing a lot more of in the seasons to come, so be prepared to give up the pretty patterns for now. Overall, this is a continuation of much of the trends we're seeing at the moment but bound together with denim, so keep an eye out and be prepared!
Spotted around campus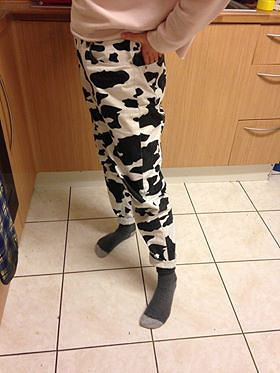 This week on Spotted we have this lovely girl wearing a pair of cow print trousers. I absolutely love the print and haven't seen anything like them before. They're amazing!
Celeb fashion
Not too long ago, Love Island's Dani Dyer released a clothing line with the brand InTheStyle; she posted this picture on her Instagram wearing one of her jumpers. I really like the jumper, I think it's pretty. However, it is kind of boring - it's just like any other jumper I could buy - but it does look nice!
Events
For all you lovely people that like to dress up (I am one of those people), the Students' Union are holding a Disney day and a Disney party. Make sure you come dressed up! There's also going to be lots of sweet treats to tempt your less-than-willing friends with.
The retro review
This week, we 2nd year fashion students had a lecture about power dressing (I'm not going to rant about shoulder pads again, don't worry), in which we heard it wasn't until the mid to late 1920s that women were really allowed to play any sports that weren't tennis or archery. This got me thinking about what they wore to the sporting events that they could partake in (spoiler: it wasn't Nike).
Pictured here is French tennis player Suzanne Lenglen in 1925. She is wearing what seems to be a long white dress, but it could also be a tunic and a pleated skirt. Although loose on her body, the outfit looks restricting and uncomfortable. The shoes look like what are probably the most uncomfortable things ever; I had a pair of shoes like that for work and they didn't last a week so I'm not sure how she's running around a tennis court in them! I'm so glad that now when women play sports we're not subject to these awful clothes. However, it was only recently that Serena Williams was excused from playing because of her outfit, so maybe we haven't come that far…