Residential Life Officer Lucy Atkinson and UEL Journalism student Lucas Ribeiro dos Santos look back over Week 3 of life in halls.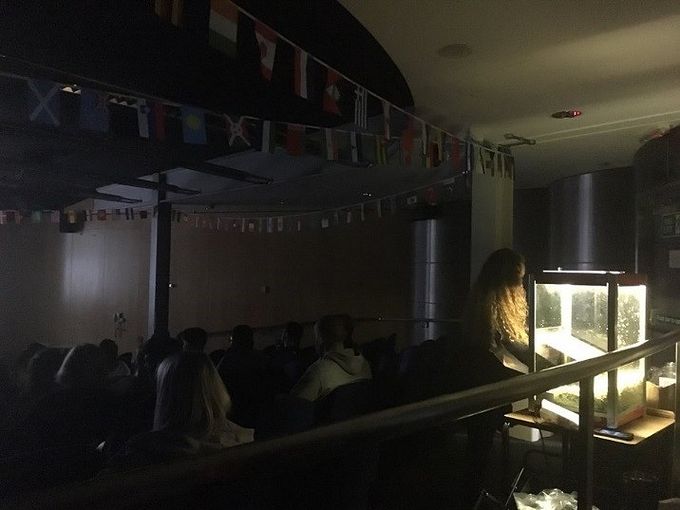 October is coming to an end but before it does there are plenty of things happening on and off campus. As it is Black History Month, Residential Life Scholars Aleksandra Letunovska and Keila Cabral brought us another amazing movie night! This time they screened Marvel's Black Panther to represent the month. Students were mesmerised by all the amazing choreography and stunning visuals. But as always, our favorite part was the free popcorn and free drinks.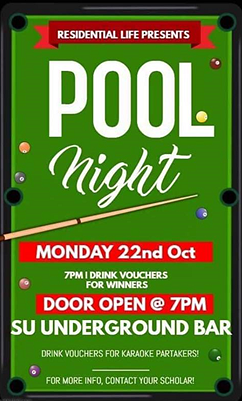 We like to start our week on a positive note. And the best way to do that is to always go for a few games of pool on a Monday, after lectures. Now, when we heard that Harry Walker was doing a free Pool Tournament, we had to go check it out. Students went head to head to try and claim their drink vouchers. Not a pool person? Well that was not an issue, as Kristine Ofori was doing Karaoke. So all of those people who thought that they weren't any good at pool still had the chance to get their voucher by singing. If you enjoyed the night as much as we did, then go to any of our social websites and drop in a comment.
Residential Life decided to make this Halloween the best one ever, with the help of Residential Life Scholars Madison Joy, Alvie Hosingco and Brandon Crooke. The night started at The Underground Bar to get warmed up before heading on to the Romford nightclub Atik in pre-arranged coaches. It was great to see everyone get into the Halloween spirit: Spider-Man, skeletons, vampires and even Michael Jackson were all there. There were so many different costumes on display as everyone danced the night away to Michael Jackson's Thriller. It was a night to remember.
Keeping in the Halloween spirit, this Sunday 28 October we will be showing two movies to celebrate. Screenings will be in WB G.02. The first movie, Beetlejuice, will start at 4pm. Then we are inviting everyone to The Underground bar to take part in a spooky quiz! The second movie, Friday the 13th, be shown at 7:30pm (after the quiz).
It has been a great week with plenty of fun events and there are plenty more to come. So stay up to date with all that is happening on campus by following us on social media. Do you have any suggestions for future events? Just go on our social media pages and let us know. If you aren't much of a social media person, then email the scholars and we will get back to you. Happy Halloween, UEL!
Follow us online:
Twitter: @uelhalls
Instagram: @uelreslife
Facebook: UEL Residential Life: https://www.facebook.com/UELResidentialLife/
Email: residentiallifescholar@gmail.com