Hello my beautiful readers. Today I woke up thinking about all the awesome events that are to come and I thought that I would share it with you guys. Because you guys are my sweet hearts. Let's start by mentioning March Madness. It will be taking place at the Underground Bar on 22 March. We will be hosting some games and the winners will get sweet, sweet drink vouchers. It will be a "represent your halls" theme so please "represent your hall" by wearing the colours of your building.
Next on our list we have the UEL Talent Show! Applications are now live on our Facebook page. So if you have any tales that you want to share with the world, this is the right place for you to do it. There will be a cash prize to the top three winners. I do have to mention that only residential students can win the prizes as the money will be given in the form of rent reduction. Non residents can participate but only if they are with a resident. The talent show is on the 3 May, 7pm.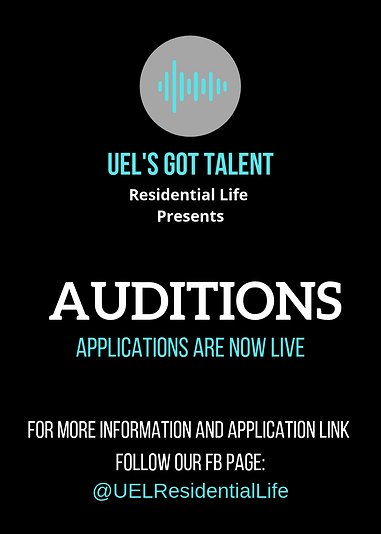 Now, to end this on an awesome note. Let me just tell you guys that this year, Residential Life will be hosting our first and very own, End of the Year Ball! This is right folks! Get ready because it will be amazing! It is going to be a masquerade ball, so bring your best suit or dress and come and have a blast. The date is to yet to be confirmed but keep an eye out on our social media and we will let you know when it is time to boogie.
Speaking of social media, why not join our pages? You will be updated on all the cool stuff going around campus and all your friends will be there too. So go on. It is only a click away. I dare you to join our social media. Alright enough of that. I'm just going to leave our pages down below for you. That's how nice I am. Come back next week and I will be telling you what is the latest on our beautiful campus. You have a lovely week and as always stay awesome UEL.
Follow us online:
Twitter: @uelhalls
Instagram: @uelreslife
Facebook: facebook.com/UELResidentialLife