Helsinki with UEL's Going Global
On February 12th, I visited the Finnish capital of Helsinki, as part of UEL's Going Global scheme, along with our tutor Minna Kantonen, and a group of 9 other BA Photography students. The scheme is a fantastic opportunity for students to get funding for a global trip to support their studies, and experience a different culture.
Whilst in Finland we enjoyed 6 days of photography themed experiences, with a bit of Finnish karaoke thrown in for good measure. What made the whole trip so great for us was that alongside scheduled activities as a group, we also got to work on our own projects, which ranged from taking portraits of Finnish ice swimmers, to street portraiture, and even photographing Helsinki's first cat cafe.
One of the highlights of the trip was our visit to Turku University of Applied Sciences' Photography department, where we had the opportunity to critique each other's work and get some really useful advice from students, with a different cultural perspective. We found it really interesting to see how our work was perceived, and enjoyed looking at the Turku student's handmade photo books. We rounded off our day there by hanging out with the other students in a local Finnish pub and exchanging Instagram accounts so that we can keep in touch and follow each other's photography.
Alongside exploring Helsinki town centre, we made sure we ventured further afield, to nearby islands Seurasaari and Suomenlinna capturing some interesting architecture, landscape and wildlife. With temperatures plunging to -8 degrees on some days, the snow and ice made for some unique photography opportunities, including the frozen sea, something which I've never experienced elsewhere.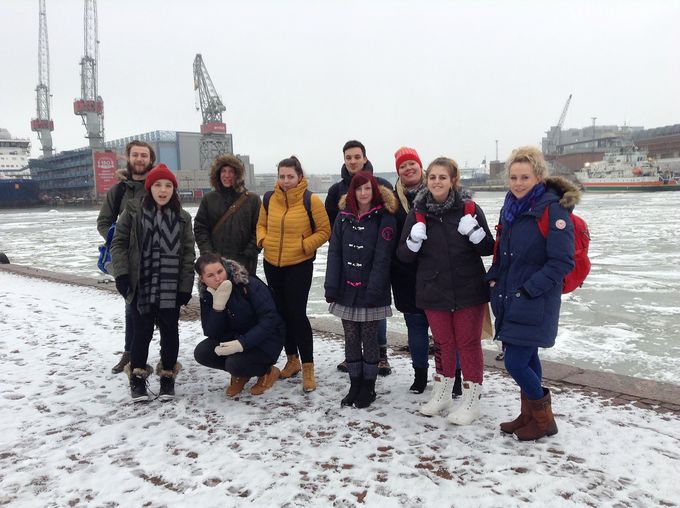 As well as being an amazing opportunity to get some unique photos, the trip was a great way to get to know students from other years in a relaxed and fun environment. I can highly recommend the Going Global scheme.